Over the last ten years, I have worked with colleagues to better regulate pornography, to undertake research on the content of mainstream online pornography and on how to better regulate porn companies in the EU and UK, as well work with colleagues to successfully introduce criminal laws on extreme pornography
Online Safety Bill: The UK's Online Safety Bill provides a valuable opportunity to reduce the availability of unlawful pornography online. For more details, you can read my summary of how the Bill will regulate pornography, together with recommendations for improvements in the Bill, prepared with Professor Lorna Woods of Essex University. The summary is available here and the full briefing here.
How much sexual violence is in mainstream porn?
My latest research with Fiona Vera-Gray and colleagues has found that 1 in 8 titles on the landing pages of the most popular porn websites describe sexually violent pornography. This research is free to access and download from the British Journal of Criminology. This research raises serious questions about the extent of criminal material freely advertised on mainstream pornography websites, the accountability of porn companies and the efficacy of current regulatory measures. Read our blog here summarising our findings, and read more in our research & policy Briefing
This research was reported across the world, including in the Sunday Times and New York Times, as well as being debated and translated across the world. We've published two blogs with our preliminary findings: on voyeurism images and how porn company Terms & Conditions are 'works of fiction'.
Online Safety Bill – don't let porn companies go #UnderTheRadar
It's vital that the large porn companies are included in the scope of the #OnlineSafetyBill and are proactively regulated. The Bill provides an opportunity to require companies to improve their policies and be more transparent. See more in my oral evidence to the Parliamentary committee reviewing the legislation and my written evidence.
EU Digital Services Act: I have recently worked with the charity HateAid and Prof Lorna Woods on proposals to hold large porn companies accountable for the non-consensual sexual imagery on their websites. We produced an expert opinion which justifies these measures.
My research with Hannah Bows provides new FOI data on the policing of extreme pornography. Read more here.
Criminalising extreme pornography: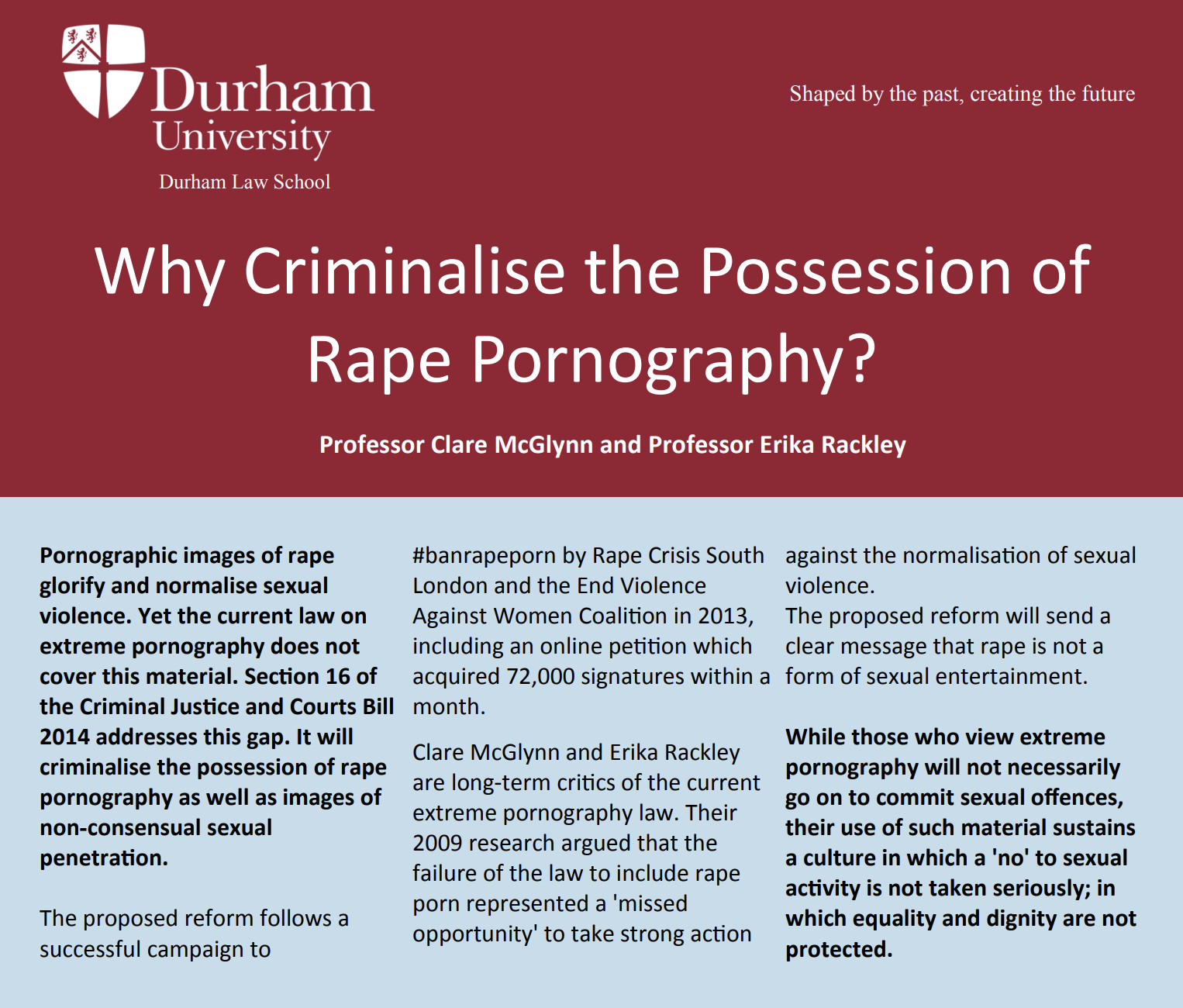 These two projects build on my long-standing research in this area with Erika Rackley that justifies using the criminal law to criminalise the possession of extreme pornography on the basis of its cultural harm. We have worked closely with MPs and MSPs, policy-makers, charities and campaign organisations to support the introduction of new laws criminalising the possession of extreme pornography, particularly pornographic images of rape. I've engaged in public debate to raise awareness, with my comments and recommendations being widely cited across the media debates, including being quoted in The Guardian, the Observer, the Independent and on the BBC. I've also participated in debates on BBC's Woman's Hour and Law in Action.
Should porn be on the school curriculum? I participated in a BBC TV debate on this topic, and set out my recommendations in this blog: should porn be on the school curriculum.
I've also blogged about how watching porn in public is a modern form of street harassment.